Crash Course in Crash History
Crash Hotel has been standing at this location for over 100 years, having survived 2 fires, 2 world wars, prohibition and millions of patrons staying, and most likely finding some form of trouble(fun) within it's four walls.
In the year 1904 this hotel was founded and named the Richelieu Hotel.
The Richelieu was built with the anticipation of travelers using the Canadian North Railway. The C.N.R was to arrive in Edmonton in the fall of 1905. This connection was the direct link to eastern Canada.
The Richelieu main building was 50ft.x50ft. and an annex that was 30ft.x70ft., with first class plumbing.
As the years went on this hotel had grown from 36 rooms to 73, had been renovated, a name change in 1938 to Kings Hotel and again in 1940 to the Grand.
So now in the 20th century sits the same hotel on 103 street and 103 avenue, in the heart of downtown Edmonton.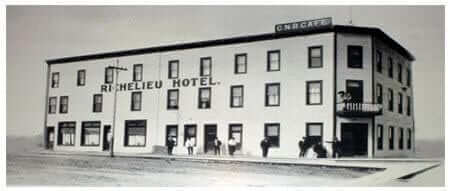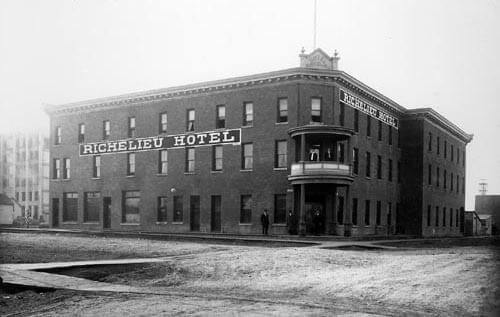 The Richelieu Hotel on the corner of Third Street and Peace Ave. (named for the Peace River).
The address then was designated 800 Third Street.
It was a wood frame hotel (when it opened there was no brick on the exterior, just wood siding).
It operated the CNR Cafe in side the hotel, named after the Canadian Northern Railway, which had its station and yard north one block across where they are building the Stadium now. It appears the hotel was built here to take advantage to the train station traffic.
They got their licence on October 31, 1904
opening day was November 2, 1904 with a band for entertainment that tuesday night
there is no building permits as these did not start till 1905 in Edmonton
50 x 50 foot on three stories and a two story annex of 30 x 70 feet with 36 bed rooms total
"First class plumbing arrangements have been installed. It will be heated through out with steam, and will be electrically lighted'
J.N. Pomerleau is the proprietor (I think his name is Joseph Napolean Pomerleau, and he may have gone by Napolean as I saw this on one document), a french speaking man. I orderd two photos of him. He belonged to the Richelieu Club in 1931, a service club for french speaking men. He married Elizabeth Pomerleau. He is a carpenter who expanded into real estate and who also owned a hotel in Melville, Saskatchewan.
In a publication called the Edmonton' Creed there is a photo of it now with a brick exterior, and a round corner balcony on the second floor above the entrance. This brick was added a "few years" later, and there was an increase to 89 rooms in total.
A few years later the manager was L.N. Ostingy and it was operated or conducted on the "American Plan" with room rates costing $1.25 to $2.00 a night.
Renamed to: The King's Hotel
The address was changed to 10266 103 st
1940 – Renamed to: The Grand Hotel
Phone line was added – the number:  24196
1950 – There was a $300,000 addition to add on  82 x 42 feet and adding on 30 more rooms.